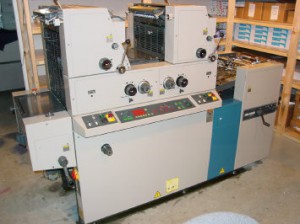 The Predicament Wrestling Scorebook was established in Marshalltown, Iowa, in 1980 and has been growing ever since.
When I first started coaching, there wasn't a wrestling scorebook available that was big enough to record all of our dual meet and tournament matches in one season in one book OR that provided a summary form to keep track of each wrestler's matches during the season. So I designed my own.
Other coaches saw it and wanted a copy, so I began publishing the Predicament Wrestling Scorebook. Back in the old days in the 50's and 60's, our current two point near fall was termed a "predicament" and that is where the name originated.
After I retired from teaching and coaching, I purchased a commercial, two color printing press, a digital plate maker, and paper cutter. So now I update, print, collate and bind the scorebooks myself each summer and then ship them out in the fall.
Many improvements in the book have come from coaches' suggestions, so please contact me if I can improve this book for you in any way. In rewriting my instruction pages, I summarized and organized folkstyle wrestling basic rules into a simple explanation of our sport. I combined pieces here and there from other coaches and referees and wrestling rule interpreters. I hope you will copy whatever parts you want to provide an explanation of our sport to young wrestlers, parents, fans, student bodies, scorekeepers, youth tournament referees, cheerleaders, and news media. The more people know, the more they will enjoy, and the more popular our sport will become.
Like you, my passion is the sport of wrestling. I was one of you for 34 years. I have totally enjoyed our sport while competing,  teaching,  coaching and publishing this scorebook. And I have certainly enjoyed the many friendships and successes because of wrestling. I list the below credentials in the hope that you will trust that I know what I'm talking about, and that I am providing you with an excellent tool to help make your coaching job easier. I hope you will consider using our Predicament Wrestling Scorebooks for your team scoring and individual wrestler stats.
I began wrestling in 1961 in 8th grade at Decorah Junior High School in Decorah, Iowa with a 1-8 record. The one guy I beat quit wrestling the next week and went out for basketball, so I didn't really win any at all.
Wrestled 4 years for Decorah High School under Coach Larry Poock and was Decorah's first State 

Wrestling Champion in 1965. Member of the National Honor Society and voted the "Outstanding Boy 

Citizen – Class of 1965″ by my teachers.

Wrestled 5 years at the University of Iowa under Coaches Dave McCuskey and Gary Kurdelmeier and 

was the 167 pound Big Ten Champion, NCAA Wrestling Tournament Runner-up, an NCAA Wrestling 

All-American, voted "Iowa's Most Valuable Wrestler" by my teammates on our team which finished 2nd in 

the Big 10's to Michigan State and 5th in the NCAA's, and wrestled in the NWCA East-West All-Star Meet 

in Ames, all in1970.

Head Wrestling Coach at Belle Plaine High School in Belle Plaine, Iowa for three years.
Head Wrestling Coach and physical education teacher at Marshalltown High School in Marshalltown, Iowa for 31 years. Retired in 2004. 350 dual meet wins was 3rd on the Most Wins List in Iowa at the time.
Secretary-Treasurer, Vice President, and President of the Iowa High School Wrestling Coaches and 

Officials Association in 1984, 1985, 1986, respectively.

Voted the Class AAA Iowa Wrestlng Coach of the Year in 1986.
Inducted into the Iowa High School Athletic Association Wrestling Hall of Fame in 1996.
Presented a "Lifetime Service To Wrestling Award" representing Iowa by the National Wrestling Hall Of Fame in Stillwater, Oklahoma in 2004.
Officiated high school and college wrestling matches for 20 years including the four Iowa vs. Iowa State wrestling dual meets in 1986 and 1988.
Coached 158 State Qualifiers, 60 State Place winners, 6 State Champions, and 5 future NCAA Wrestling 

All-Americans. 

Nineteen of my former wrestlers have become high school wrestling coaches.
View the "Folkstyle Wrestling Rules" to test your knowledge of folkstyle wrestling.